Although our founder, John Malki, is no longer with us, we still love and remember him. If you didn't get the chance to meet John, here's a little about his life from our local newspaper, The Sun.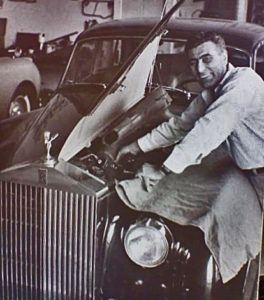 SB man specialized in automobiles, honesty

by HEATHER MAYBERRY, Staff Writer

SAN BERNARDINO — For 44 years, Malki Automotive Service owner John Aziz Malki built a name for himself as a mechanic through good customer relations and honest work. "The customers are like family because they have been with him from the start," said his son, David Malki of Los Angeles. "He never had an ounce of guile or sneakiness in him. He was completely honest to a fault. Customers would come and just drop off the keys and say, just send me the bill when you are done. People trusted him that much."

John Malki, a longtime resident of San Bernardino, died Nov. 12 of cancer at Kaiser Permanente Medical Center in Fontana. He was 79.

He was born Aug. 17, 1925, in Beirut, Lebanon, and was the oldest of his parents' eleven children. At 15, he quit school and began working to help support the family. He worked in several locations mainly as a mechanic during the 1940s through the 1950s, including Palestine, Lebanon and Syria.

Malki was sponsored for a U.S. visa by a Presbyterian minister in Columbus, Ind., and was able to move to America in 1956. In 1957 he moved to Whittier. He lived there a year before moving to San Bernardino, where he worked as a mechanic. "He was an expert in foreign cars because where he learned to be a mechanic, there weren't a lot of American cars," said David Malki. In 1960 Malki opened his automotive repair business. It was the first import-only auto repair shop in San Bernardino.

In May 1963, John returned to Lebanon, and it was on a Dutch freighter between New York and Beirut that he first met his wife, Linden Lovegren of Spokane, Washington. They were married on July 2, 1963 in Beirut. Upon their return to San Bernardino, Linden immediately took over the parts and supplies half of the automotive business. "My dad liked to work on the old cars," said his son. "That was his speciality. My mom was better with the business end of the company."

Malki never really retired, and the family-owned business is still in full operation. "He would never retire," said his son. "He was always working. So, all of his kids had to work in either the shop or the parts store all throughout our lives. He had such an amazing work ethic and he made a point to teach that to us as well. To this day I still feel guilty if I am not working."

Malki took up flying in the late 1970s. He was a member of the Civil Air Patrol. "My best memories were of him taking me flying," said his son. "I became a pilot because of that. I didn't tell him that I was taking flying lessons; I wanted him to come in to the airport not knowing anything about it. He didn't show it much, but my mom said he bragged about it to everyone."

Malki is also remembered for his generous heart. "He never had a lot of money because he was always giving it away to help people," said his son. "He was such a straight arrow. He had no enemies and no grudges."

Other survivors include his wife, Linden; a son, John Malki Jr. of San Diego; two daughters, Mary Cariaga and Zeny Androus, both of San Bernardino; two brothers, Elias Malki of Upland and Peter Malki of Escondido; four sisters, Zeny Ward of Vista, Rebecca Noma of Northridge, Sarah Pourciau of Oceanside and Rashael Malki of Upland; and six grandchildren.

In Memoriam: John Malki
Services were held. Montecito Memorial Chapel in Loma Linda handled the arrangements.

Donations may be made to the Calvary Baptist Church Fire Rebuild Fund, 3701 N. Sierra Way, San Bernardino, CA 92405.

© 2004 The Sun. All rights reserved. Reproduced with the permission of Media NewsGroup, Inc. by NewsBank, Inc.